Watch this space to learn about upcoming events and the latest Walk to End Alzheimer's news!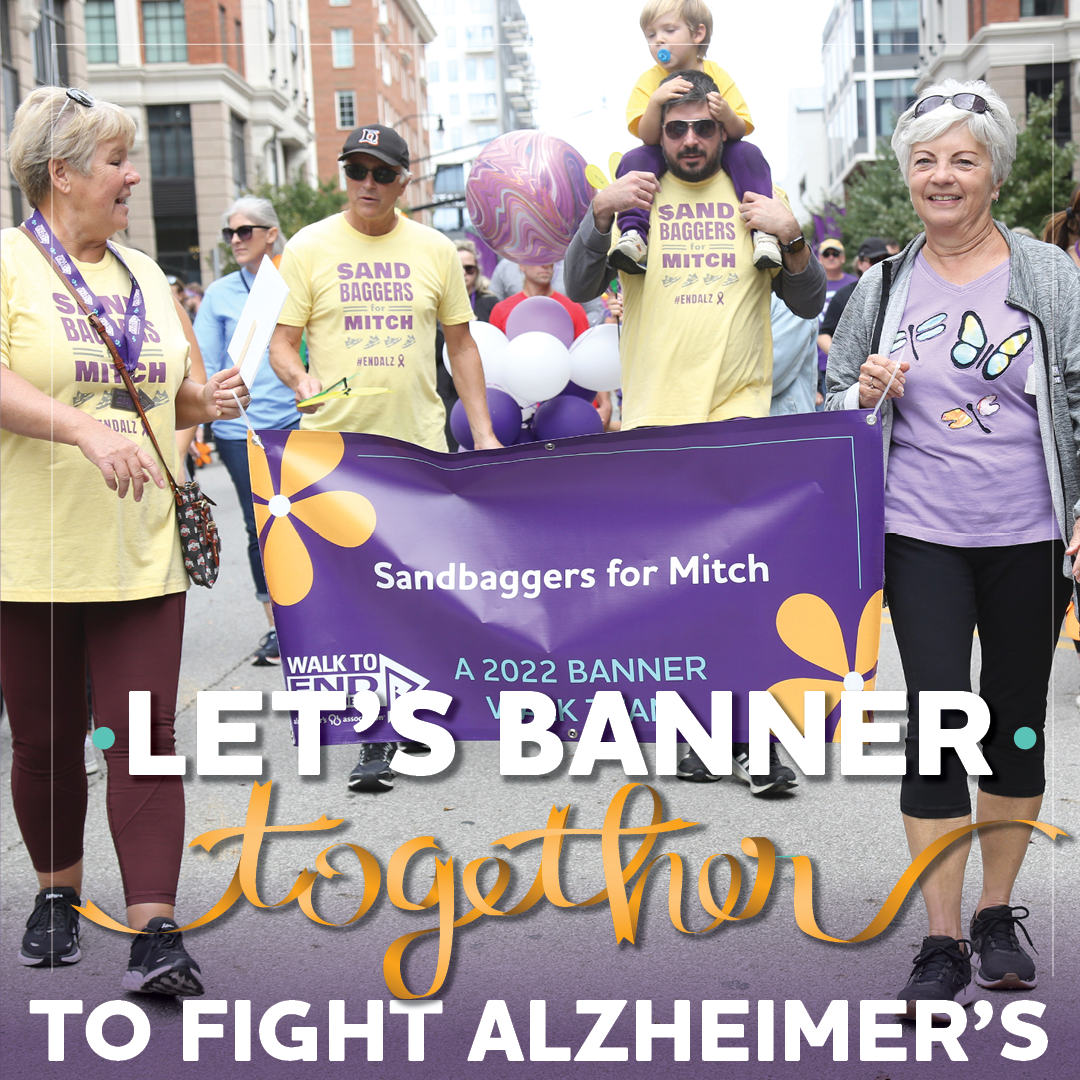 Let's Banner Together to fight Alzheimer's! Register a team of at least five members and raise a minimum of $500 by the end of May and your team will receive a personalized team parade banner to carry on Walk day!
Register as a team captain if you have not done so already

Recruit and sign up at least four (4) team members

Raise $500 or more as a team (that's just $100 per person) by midnight, May 31.

Receive a personalized parade banner to carry with you on Walk day
Find all the details in the "news and events" section of your local Walk to End Alzheimer's website (alz.org/walkmiamivalley). If you have questions or want to learn more about the Walk, reach out to me, Dan Woody at dawoody@alz.org, Jim Fitzpatrick at jtfitzpatrick@alz.org or Sidney Hamilton at skhamilton@alz.org and we'll be happy to help answer any questions.
2023 Walk Dates
Darke County - September 9, 2023
Dayton - September 30, 2023
Miami County - September 16, 2023
Shelby County - September 23, 2023
Springfield/Urbana - October 14, 2023
Thank you for stepping up in the fight against Alzheimer's. Your commitment fuels the advancement in research, provides educational programs/services, and increases awareness through care and support in our local community.
Use the Walk to End Alzheimer's app to scan any check donations you receive toward your fundraising efforts, and have them immediately added to your page and deposited to the Alzheimer's Association! CLICK HERE to learn how to use this feature. Available for iPhone and Android users. Convert any cash you receive into a check or donate the amount online via credit card.
All American Clothing
All American Clothing Co. - Make Something Happen Today T-Shirt
All American Clothing Co. was founded in 2002 by Lawson Nickol to support USA families by keeping jobs right here in the USA. Nickol, sadly, lost his battle against Alzheimer's in 2020.
Unisex ringspun cotton T-shirt made in America featuring Nickol's saying "Make something happen today" can be ordered on allamericanclothing.com. and searching for Alzheimer.
All proceeds benefit the Alzheimer's Association.
Diana Bosse
The Perks of Having Cancer
This 231-page book is a poignant, witty and laugh-out loud funny journal of the day-to-day discoveries, surprises and indignities of battling cancer following retired Walk Manager Diana Bosse's diagnosis in 2019. While cancer is no laughing matter, laughter can be the best medicine!
Book available to order via Amazon with 5% of the purchase donated to Walk to End Alzheimer's and another 5% donated to LLS.
The Kroger Family of Companies is committed to community engagement, positive social impact and charitable giving at the national and local levels. Every community is unique, but our common goal is to partner with the neighborhoods we serve and help the people there live healthier lives.
One of the ways in which we do this is through our Kroger Community Rewards program. This program makes fundraising easy by donating to local organizations based on the shopping you do every day. Once you link your Card to an organization, all you have to do is shop at Kroger and swipe your Shopper's Card. For more information, visit https://www.kroger.com/i/community/community-rewards
Did you know that every time you shop online at Walmart or the Walmart app, you can round up your change and donate it to the Alzheimer's Association? Learn more and select the Alzheimer's Association at Walmart.com. #ENDALZ