Team Page of:
United Airlines NYC Half Marathon
Our Team Story
DO NOT REGISTER ON THIS PAGE . WITHOUT CONTACTING.
For more information on how to join our team and how to participate with an official Entry spot. Please Contact: Lucy DeNardo ldenardo@alz.org 646.793.4862
As a participant you will receive guaranteed entry into the race as well as fundraising guidance and incentives prizes such as an athletic race shirt and water bottle. All participants must meet a fundraising minimum of $1,850.
The 2019 United Airlines NYC Half will take runners from around the city and the globe on a 13.1-mile tour of NYC. Led by a talent-packed roster of American and international elites, runners will stop traffic in the Big Apple this March!

Course Info
Read about the new course layout for the United Airlines NYC Half, and check back soon for information about wave start times.
Miles 1–2: Start on Flatbush Avenue near the Grand Army Plaza entrance to Prospect Park. Bear right around Grand Army Plaza and continue on Flatbush Avenue.
Mile 3: Cross the East River from Brooklyn into Manhattan via the Manhattan Bridge.
Mile 4: Turn off the Manhattan Bridge onto Canal Street, and follow Canal Street to East Broadway.
Mile 5: Take a slight right from East Broadway onto Grand Street, and then a left onto Columbia Street. Take Columbia Street to East Houston Street and take a right, and then follow the exit ramp left onto the FDR Drive.
Miles 6–7: Continue north on the FDR Drive. Merge right onto the exit ramp for East 42nd Street.
Mile 8: Follow East 42nd Street to Seventh Avenue and turn right.
Mile 9: Run north on Seventh Avenue and enter Central Park, following Center Drive toward East Drive.
Miles 10–11: Continue on East Drive in Central Park. Turn left at the 102nd Street Cross Drive, and take another left onto West Drive in Central Park.
Miles 12–13.1: Follow West Drive south, around the Reservoir, to the finish line at West 75th Street.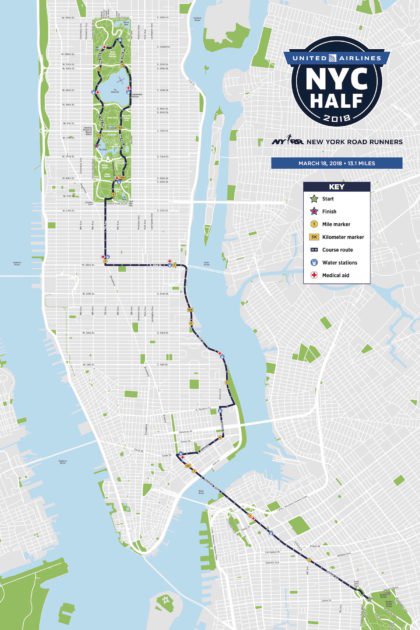 The Power of a Donation
The dollars you raise fuel the care, support and research efforts of the Alzheimer's Association.
Add your name to my donor list today!
Thanks to Our Donors!
Christopher & Denise Romano
Debbie & Stuart Greenbaum
$100
Debbie and Rick Stamm
$1,000
Dr and Mrs U.Paul Federbush
$300
Laura, Tate & Mattie Reale
$100
Mayerhoff Family in Memory of Simon Stern
$100
Mo, Sam Maggie (&Aidan always)Strype
Mr. and Mrs. David Turner
$100
Peter and Mary Shintay
$100
Phyllis (Clark) & Joe Fernandez
$100
Richard and Donna Strype
$250
Risa and Michael Turner
$100
Rochester Area Community Foundation
$500
Sevior Placement Services, Inc.
$100
Search for a team member to donate
Next
You can also